Axial Compressor
The axial compressor is developed & manufactured based on aviation engine compressor technology. It mainly provides compressed air into blast furnace or petrochemical refinery device. It is the key equipment in metallurgy and petrochemical industries. Our company has successfully developed more than ten models of axial flow compressors as the ACL series. The maximum exhaust pressure exceeds 0.85 MPa and the maximum air flow exceeds 10,000 Nm3 / min. It is suitable for all catalytic cracking devices in petrochemical industry and the blast furnaces which the capacity is above 380 m3.
| Typical performances: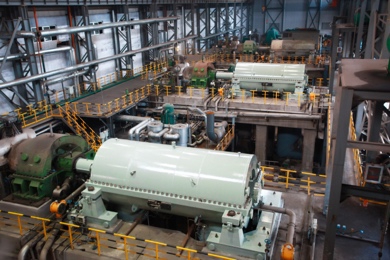 In 2012, ACL80-17, the first domestic developed large-scale axial compressor with independent intellectual
property rights, was officially put into operation at Tangshan Yanshan Steel Co., Ltd.. Its operation received a
very good eveluation by the customer, and it becomes a model prodcut in our company.
As of 2019, nearly 80 sets of axial flow compressors were provided to domestic and foreign customers. This
product has been realized as the successfully substitution of the imported equipment and it has provided a
good economic and social benefits to both the customers and us.
We could not find any corresponding parameters, please add them to the properties table
ADD:17th Floor, Block H, Innovation World, No.109 Quanyun Road, Shenyang District, China (Liaoning) Free Trade Zone Tel:400-666-4828